BEN TAUB HOSPITAL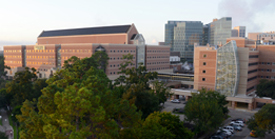 Located in the heart of the Texas Medical Center, Ben Taub Hospital has garnered respect both locally and worldwide as an outstanding acute care facility and an elite Level I trauma center. This 586 licensed-bed hospital houses the Ginni and Richard Mithoff Trauma Center, which cares for more than 100,000 emergency patients each year and is known to save the lives of some of the most critically injured.
Ben Taub Hospital earned the distinction of Comprehensive Stroke Center Certification awarded by DNV Healthcare, Inc. The hospital also earned the American Heart Association/American Stroke Association's Get With The Guidelines®-Stroke Gold Plus Quality Achievement Award for its commitment and success in providing excellence in stroke care.
Staffed by physician faculty and residents from Baylor College of Medicine, Ben Taub serves as a teaching facility to the next generation of healthcare providers.
In addition to the outstanding trauma, stroke, emergency and acute care services, Ben Taub provides outpatient clinical care in a wide array of medical specialties, including: cardiology, dermatology, diabetes and endocrinology, gastroenterology, infectious disease, neonatology, neurology, neurosurgery, obstetrics and gynecology, ophthalmology, orthopedic surgery, otolaryngology, psychiatry, pulmonary care, rheumatology, radiology and urology.